---
Azawakhs Looking for a New home
2011-05-09
The two lovely Azawakh brothers presented here have fortunatelly found their nice forever homes! However, there are always some dogs in need to be rehomed. Should you wish to offer home to an Azawakh in need, please contact Azawakh Rescue, an organisation based in Germany, which is doing a great job in finding new homes for Azawakhs coming from several European countries. Azawakhs looking for new loving families under the protection of Azawakh Rescue may be seen here.
____________________________________________________________________________
Shaggy – an Azawakh male born in August 2008, his parents are brother+sister. Not neutred. No pedigree.
23.7.2011 - Good news, Shaggy left for his new loving forever home!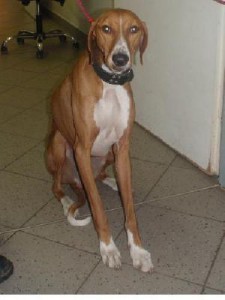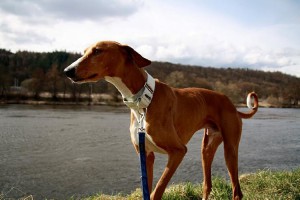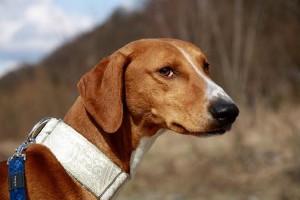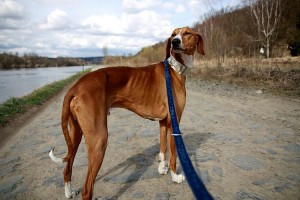 Shaggy was placed by his second owner in a dog shelter in Prague approximately in February. From there, after some time, he could be included in the Adoption Programme of the Czech Sighthound Adoption organisation and spent approximately 6 months in a foster home with Mrs. Lacinova.

On 23.7.2011, Shaggy left for his new loving forever home! Good luck for Shaggy and his new owners, and endless gratitude for Magda Lacinová, who cared for this little Azawakh soul with such a dedication and care!
_____________________________________________________________________________

Tenner was born in August 2008. He is Shaggy´s brother. He is neutered. Both Azawakh boys come from a brother x sister cross. The actual owners took this male when he was six months old, directly from the place where Tenner was born. At that time, Tenner was in a bad physical and mental condition. They have done a lot to heal Tenner´s body and soul, however they have come to the conclusion that now, they cannot give him the time and care he needs and deserves.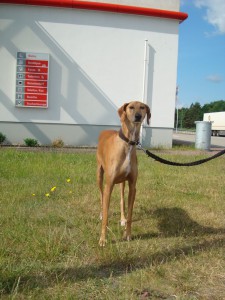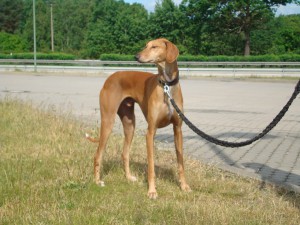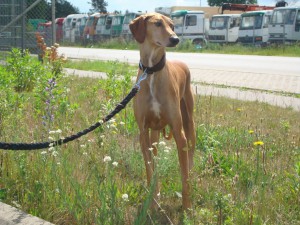 Tenner, who will be 3 years old in August, was handed over to the Azawakh Rescue on 28th May 2011. He happily arrived at his new foster home in Bremenhaven, where he will stay until his health condition is evaluated and a new owner offers him new home. The Greyhound Adoption of the Czech Republic was the first one to give a notice of Tenner´s situation and thanks to this organisation Tenner could be helped. The kind people of the GACR had saved also Tenner´s brother Shaggy from a dog shelter in Prague, and Shaggy is now in an expert care of Mrs. Lacinova in CZ. The GACR really helps to all dogs in need, THANKS! May I express my gratitude to Tenner´s ex-owners, who saved him from the "breeder´s" place at the age of six months and did their best in healing his body and soul, so badly affected by the living conditions at the "breeder´s". They did what they could to help the poor dog; the story of Tenner and his people is really heartbreaking. May I also express my infinite gratitude to my friends (I am very happy to have such people for friends), Eva Fialová and Irena and Honza Zadina, who helped me both directly and also gave me their emotional support during my first (if only also the last) Azawakh rescue mission. Last but not least, I wish to thank to Petra Stammberger from Azawakh Rescue, Germany, for being willing to help, for her incredible approach towards dogs in need and for not thinking that all the Czech people are equal. THANK YOU, PETRA!
________________________________________________________________
In the case of all the dogs, it may be said generally that if their socialisation and education during the first weeks after their birth is neglected, then, even if they are perfectly cared for by their new owners, it is difficult to make up for such a defficiency and lost time. This applies to the Azawakh more than to any other breed. A wounded soul of an Azawakh may heal for years. If anybody decides to offer a new home to any of these two Azawakh boys, such a person must count on the fact that during the first weeks or months, s/he will have to overcome minor or major problems. It may take quite a time to find a way of communication with the dog. It is necessary for a new owner to feel an infinite love, to be patient, tolerant and strong-willed, to have time and be willing to spend her/his time with the dog during the first MONTHS. Yes, months, not days or weeks. The Azawakh is not a breed suitable for everybody. The Azawakh is clever, it learns incredibly fast, and it is endlessly sensitive and responsive to what is hidden in the human soul. Compassion alone is not a good reason for offering home to these boys. A person who adopts Shaggy or Tenner should be phycially active, determinate, well-balanced and should have knowledge of dog´s education, of the Azawakh and primitive breeds as such.
Should you wish to offer home to an Azawakh in need, please contact person is Mrs. Petra Stammberger from the Azawakh Rescue, based in Germany: tstammb@aol.com

Comments
Overview of comments