---
About Tari
2010-12-10
Born on 12.11.2001
Pedigree: http://www.pawpeds.com/db/?a=p&id=415301&g=4&p=aza&o=ajgrep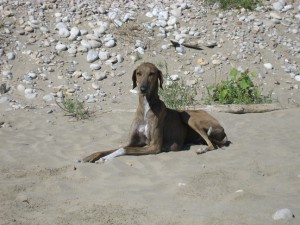 Dogs have been my companions throughout the major part of my life. Even the earliest memories from my infancy are related to dogs in a way, let them be crossbred or purebred dogs, which either chose me to be their friend or it was I who chose them to keep me company. All these creatures have imprinted their particular trace in certain phases of my life, filling them with love, joy and friendship. Dogs have been teaching me to perceive the world of these amazing creatures, and they have been making me reflect upon myself, upon who I am.
Since the beginning of 2002, a brindle Azawakh male has been my friend. Tombouktou´s P´Aytarel, called simply Tari, comes from the Tombouktou´s kennel of MVDr. Gabriele Meissen, Germany. After lots of searching, comparing and thinking I came to a conclusion that I wanted to have an authentic Azawakh, which, besides the typical breed elegance, would bear healthy and rich genes of quality African imports. I found exactly what I was looking for in Dr. Meissen´ kennel: a male with 50% of African genes. Now, when years have passed, I know I have obtained much more than I hoped and wished for so much.
Tari was born out of his dam Tombouktou´s Nahalet as a single puppy, which makes me appreciate even more the fact that Dr. Meissen decided to give her "Little Prince" to me. When we came to collect him, he was 11 weeks old, he walked on leash very well, he was house-trained, he was not afraid of anything and it was obvious how much perfect love, care and socialisation he had received from Gabi.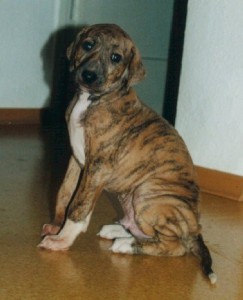 The little puppy we brought home turned out to be a creature with so much energy that I had never seen in any other little dog. He was happy all the time and he felt an incredible urge to make friends with all the dogs which we used to meet in our walks. Everything he did, he did it with an unbelievable amount of energy. He was obedient and extremely intelligent and clever, and we could not understand why the Azawakhs were said to be not easy to educate. Exactly as all the naive dog-owners in love with their puppy we came to a conclusion that our dog was without any doubt absolutely exceptional.
Genuine dog puberty demonstrated us how naive we were. All of a sudden, our obedient puppy metamorphosed into a teenager with his own opinion which only seldom coincided with our point of view. The world was suddenly full of interesting things, in which our teenage boy had to roll, which had to be explored, hunted, caught and tasted by him. It was a big blow to my self-confidence, as I had considered myself to be a person with quite a good experience in dog education. I began to devour articles and books on ethology and life of a pack, learning not just from literature, but most importantly, from my dog. The lessons which Tari taught me were thorough and they were mostly about myself, he taught me who I was, how to become a better person so that my dog could trust me and invite me to his world. It was quite a difficult journey which required lots of affection, love and patience from both Tari and me. Tari was (and still is) a perfect teacher!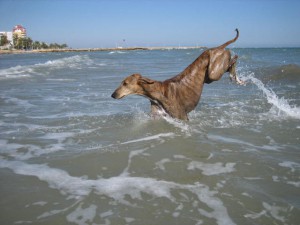 Through the playful puppy age and crazy teenage months, Tari has matured into a calm, nice companion, full of incredible tenderness, who accompanies us absolutely everywhere. We visit towns, go for long walks, we go to restaurants together, he behaves himself in hotels… he is a friend for every situation of our lives. He is a beautiful, amazing being and I only hope I am able to give him back at least a small part of all the love and happiness he has been giving to me.
Preview of picture in folder Tari