---
Tari and Shows
2010-12-03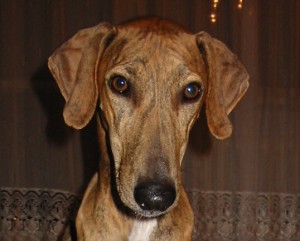 Slovak Junior Champion

Czech Champion

Slovak Champion

Slovak Grand Champion

Hungarian Champion

Slovak Veteran Champion
Annual Azawakh Specialty, Germany, 2008 - BOB and BIS

Central European Sighthound Specialty VETERAN BIS

GRAND PRIX SLOVAKIA VETERAN WINNER 2011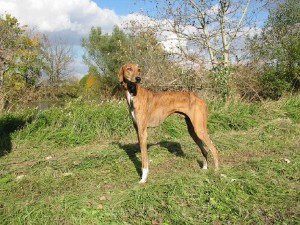 Almost every Azawakh may boast of many show titles. At the first sight, this may be very impressive, however the reality is a little bit different. In international and national shows not only in my country, your Azawakh is quite often the only dog shown in its class or it is even the only representative of the breed in the whole show. I did not enjoy such showing and winning much, so I decided to travel with Tari abroad, where I hoped for meeting a more numerous competition. In the majority of the cases, we did met more Azawakhs, and Tari´s victories made us even happier.
Tari has obtained five titles of champion in three countries: Slovak Junior Champion; Slovak Champion; Slovak Grand Champion; Czech Champion and Hungarian Champion. He has been awarded the BIG and BOB titles in national, specialty and international shows held in the Czech Republic, Slovakia, Hungary, Austria, Germany and France. Almost anually, Tari participates in the biggest European (and world) Azawakh event of the year, the Annual Azawakh Show held in Germany and organised by the German Sighthound Club, where he has always belonged amont the four best excellent males in the champion class. In 2008, Tari won BOB and BIS in this prestigious show, winning over 81 registered Azawakhs.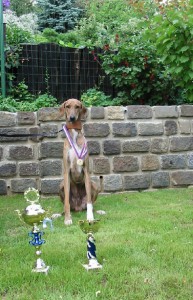 In autumn 2009, Tari entered a "veteran" age. Now, he can be seen ususally just keeping company to his daughter Akhami. In 2010, when he was shown in the veteran class for the first time, he won the Veteran BIS title in the Central European Sighthound Specialty in Topolčianky, Slovakia. Shown twice in 2011, Tari obtained two more Excellent Veteran titles in shows in Slovakia and fulfilled conditions for the SLOVAK VETERAN CHAMPION title.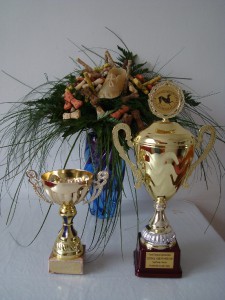 Tari´s show career is over. He has taught me so much during all those "show" years. We have had fun, joy, we have been to places, knew good and bad people. It was a nice time, but we have also realised one important thing: even the biggest show success is only a very small part of a life and friendship with a dog. So I wish our elderly gentleman to enjoy the years to come in good health and mood, having a nice relaxing time!